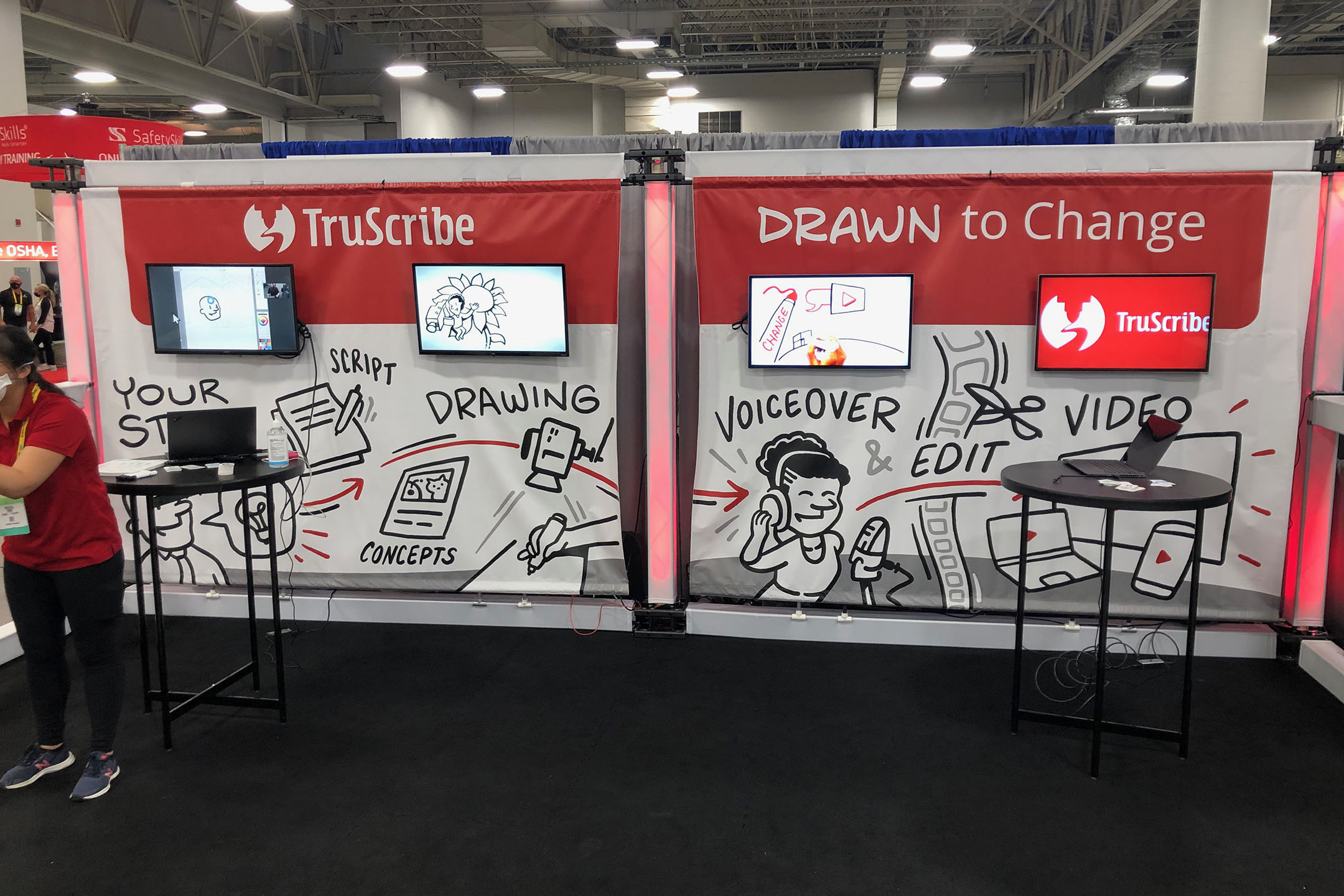 Inspired Creativity
TruScribe requested the Mega Media Factory team to create an engaging and eye-catching digital signage application for their tradeshow booth for the ATD 2021 conference in Salt Lake City, UT.  Our vision was inspired by the application of 4 displays on their booth wall.  Working with 4 displays, we proposed an eye-catching digital signage content strategy that would communicate "who" TruScribe is and "what" TruScribe does.  We expected viewers to watch the signage for 5s or less, and the content needed to engage and capture their attention, leading them to walk into the booth to be greeted by staff.  The goal of the project was to attract as many visitors to the booth as possible.
Customized Solutions
The solution centered around a BrightSign digital signage deployment utilizing BrightSign XT and  LS players.  The Mega Media Factory creative services team designed and produced an animated video package that utilized cross-screen animations that shows content flowing between screens.  Hand-drawn animations were completed in partnership with the TruScribe creative team.  Utilizing TruScribe's artist team, we executed a "live-drawing" feature that could be remotely manned by an artist at the corporate headquarters.  This feature could be turned on or off with a simple button press, programmed with BrightSign's interactive features to switch to a live HDMI signal from a computer for live drawings or presentations.  Additional booth elements were recommended, including wrapping the booth trussing with fabric and utilizing small-form-factor LED lighting to add color.
Inspired Creativity + Customized Solutions = Impressive Results
Impressive Results
The feedback from the client and booth visitors was overwhelming positive.  Visitors were drawn into the booth and were greeted by staff.  Viewers had a great sense of "who" and "what" is TruScribe within a 2-3 second glance.  The solution was simple to setup, required zero maintenance throughout the show and worked flawlessly as designed.  The client found the included setup and tear-down instructions to be clear and concise, requiring zero IT or tech experience.  With overnight delivery directly to the hotel specified by the client, the hardware arrived quickly, safely and in a package that could be easily transported to the show floor.
"The Mega Media Factory Team went beyond expectations.  Their creativity coupled with flawless execution provided the TruScribe team an undeniable edge on the trade show floor.  Attention to detail was amazing- they even included specific instructions for setup and tear down.  With COVID causing so many disruptions with in-person tradeshows, we needed every advantage we could get.  Mega Media Factory Delivered."  Andrew Herkert, Chief Revenue Officer – TruScribe
Impressed? We'd love to work with you!