Today we get to explore a fantastic ptz camera workhorse, 4K, PTZ, NDI/HX camera, the Lumens VC-A71PN.  For those unfamiliar with the brand, Lumens is a high-quality camera and accessory manufacturer, making PTZ cameras, box cameras, document cameras and many other accessories used in the Broadcast, House of Worship, Corporate, Medical, and Educational fields.
Let's take a closer look at the 4K PTZ Camera, the Lumens A71PN.
HD and 4K camera comparison
Here I have the popular Lumens A50PN PTZ camera that has been a workhorse for many years.  The A50PN features SDI, HDMI and most importantly NDI outputs- making these cameras perfect for a wide variety of applications.  With 1920 x 1080 resolutions and frame-rates up to 60p, with a 20x zoom, it's no wonder why these cameras have been so popular.  Their small size allows them to be inconspicuous.
Lumens has taken everything great about the A50PN, and now created a new camera with 4K 60p and NDI!  The A71PN offers 3840 x 2160 resolution up to 60P with a 30x zoom.  With a larger sensor and expanded zoom range, the A71PN is perfect for challenging situations seen in house of worship and corporate applications.  What I personally like about this camera is that even if you don't need 4K, you can configure the camera to operate at lower resolutions, but you get a superior image, because of the 4K sensor.  The camera is slightly larger than the A50pn, but still is small enough to be easily installed.
The Camera Specs – Get the Details!
Let's take a look at the specs side by side.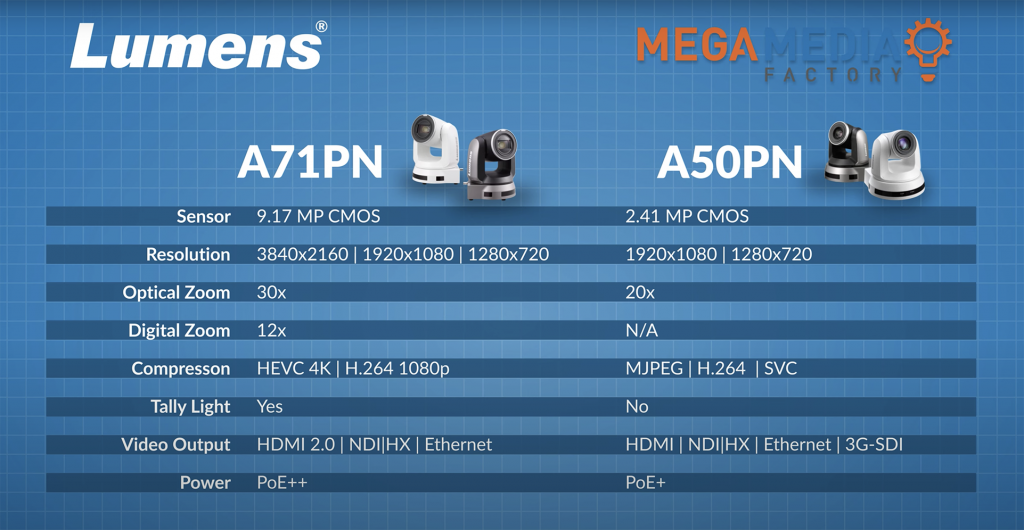 The A71pn offers a larger 9.17 Megapixel sensor and offers up to 4K resolutions with multiple frame rates. With a longer, 30x zoom range, you have more flexibility in camera locations.  The A71pn offers HEVC and H.264 compression and also has a tally light for studio applications.  Both cameras offer HDMI as well as NDI and ethernet outputs.  A huge bonus Is the fact that both cameras can be powered with PoE+, making installations a breeze with a single network cable.  Both cameras are only NDI|HX, allowing for use in bandwidth limited situations.
What We Really Think.
If you are looking for a 4K PTZ, NDI camera that won't break the bank, look no further than the Lumens VC-A71pn.  We've been impressed with the ease of use, ease of installation, and high-quality, crisp image this camera gives us.  We've used this camera with our corporate and house of worship clients, and we've seen amazing results.  Add into the mix, a Lumens KB30 Camera controller, and you have a user-friendly and seamless system.
This camera is perfect for high-quality streaming systems for churches, schools and corporate applications.  Built for those challenging situations, you will not be disappointed with the image quality.
Not sure if the Lumens A71PN is a good fit for your application? Schedule your personalized demo today.