Today we have a brand-new, just released AV over IP product, the OIP series of Encoders, Decoders and Controller.  Lumens is a global manufacturer of industry-leading, digital imaging products for house of worship, corporate, education, government and medical, and we're so excited to take a few minutes to look at their newest AV over IP line of products.  With the introduction of the OIP 40 and 50 series, now you can easily and affordably transmit up to 4k audio and video across standard 1gig ethernet.
AV over IP – What is it?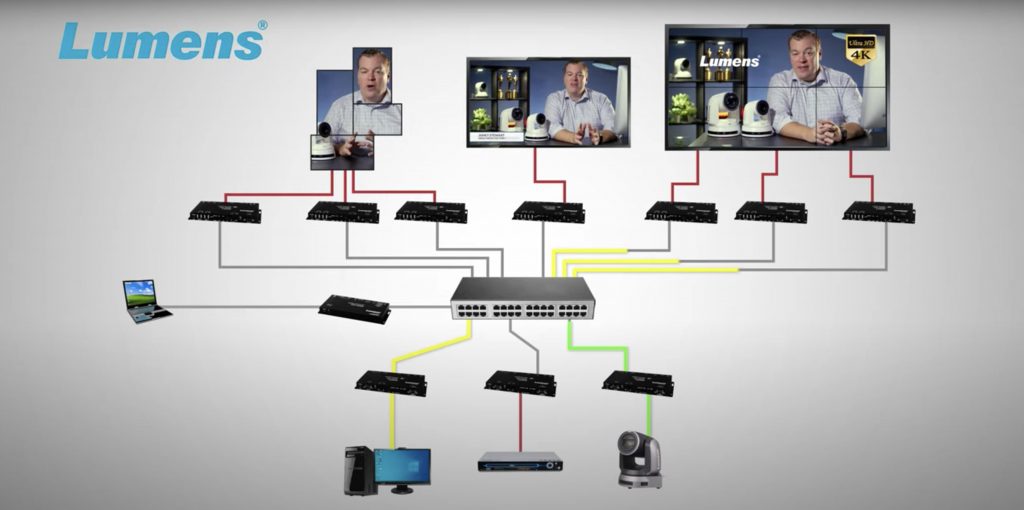 Before we get into the system, let's take a look at what AV over IP is, why you need it, and what you can do with it!  AV over IP allows for the transmission of high-quality video over standard ethernet.  This allows for distributing video anywhere on your network, whether within a few feet or at long distances.  Standard video cables, like HDMI, have a finite maximum cable length, and are sometimes big and bulky.  The advantage of using an AV over IP system is that you can easily connect a single video source to one or many displays within your facility.  The biggest benefit is that you can matrix switch any source to any destination.  This allows for unlimited flexibility in routing your AV signals.  This makes AV over IP perfect for applications for corporate meeting rooms, educational classrooms, medical facilities, command and control, hospitality, and even digital signage.  Let's take a closer look at the Lumens OIP D50 series.
What's so cool about the OIP?
The OIP, or "Over IP" system consists of encoders, decoders, a controller, and a network switch.  The entire system is powered with PoE, making installation simple and easy.  The first thing we noticed was the size, and build quality.  Each unit feels sturdy, and is well constructed with powder-coated metal. The size and shape make it easy to use them anywhere.  The encoders are easily mounted near any video source, and the decoders easily mount behind any display. The entire system is managed with a controller with a web gui, or my personal preference is a USB touch screen monitor.  An encoder is needed for each video source, and a decoder is needed for each video destination.
Simply connect the encoders, decoders and controller to your network switch, connect your source and displays, and you're up and running.  I found the initial configuration and setup simple and easy.  Using the touchscreen, I was able to easily select my sources and destinations.
Here's what we love about this product- It's simple.  It did not require much configuration and it just worked.  We found the video quality to be excellent, with no visible or audible loss of quality.  We found the latency to be extremely low, making this product great for live applications.  We was also extremely surprised to see that it supports videowalls- eliminating the need for expensive video wall processors.  Another surprise was the decoder's scaling output- allowing you to use a 4K source with both HD and 4K displays.  Our personal favorite is the macros, allowing me to easily build a complicated system, and quickly recall that anytime.
Another nice feature is the ability to use these in a KVM setup with the onboard USB ports.  IR and RS232 signals are also supported, allowing for easy control of your AV system.
Where would I use this?
This system is perfect for distributing live TV signals in restaurants, bars, casinos and arenas, sending video to multiple displays in an educational environment, distributing live video, slides and lyrics for house of worship, in medical settings like in surgery suites, and even as an extension to Digital Signage systems.  The applications are really endless.  As with all Lumens products, you won't be disappointed with the quality of the audio and video, the quality of the product itself and the ease of setup and operation.
In a future post, we'll review how to setup and configure your OIP system!
If you'd like to learn more about the Lumens AVoIP systems, or to purchase, contact us today!